Who We Are
Corporate information:
Higher Awareness, Inc.
#108, 11215 Jasper Ave., Edmonton, AB, Canada T5K 0L5
Telephone 780-462-2167 Mountain ST (GMT-7)
web site: http://www.higherawareness.com
Welcome to Higher Awareness Sharing!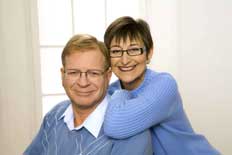 We are pleased to introduce ourselves to you. See below to meet John Robson and Patrice Robson.
My name is John Robson. Let me tell you a little about myself.
n
"For over 20 years, I have been learning and applying intuition and creativity processes in my personal and business life. I am a certified Journaling facilitator. My interest in journaling started 15 years ago when I answered 50 Smart Questions (Advanced Management Research International). This exercise changed my life by sharpening my intuitive and mental processes. Since then I have finely honed 50 Smart Questions of my own for business, personal and spiritual use.
"All in all, I've taken over 120 personal growth programs. For many years, I have studied esoteric spirituality, which is the understanding, experience and application of universal laws and principles to practical life. Very shortly, I will have completed a three-year certification program offered by the Philosophical Counselling Institute.
"I am deeply committed to helping people to change. I want to empower others to use their own natural thinking abilities so they can get out of their ruts and lead more meaningful and joyful lives. My own particular focus lies in developing an extensive personal and spiritual growth tool kit that will help people find their own worth, power, purpose and joy. This is the aim of 'Higher Awareness.'
"In the more distant past, my business life involved computer design, manufacturing, marketing, sales, teaching and entrepreneurship. In that time I worked with or led over 100 teams to create, develop and market new products and services. While working with my teams, I developed an extensive 'personal growth and entrepreneur tool kit' to support others in discovering and leveraging their innate gifts and talents.
"My personal interests are cooking, camping, walking, dancing, meditating and learning.
"I believe we each have the answers to the questions of our life inside of us. We need only learn how to draw them out. Patrice and I invite you to explore what we have to offer. And we always welcome your feedback."
Click here to email John directly.
My name is Patrice Robson.
"How do I introduce myself to you? Unlike John, I don't have a lot of official credentials that might convince you that I have the knowledge to support my own personal growth website.
"What I have to offer you is my experience. All my life, I have been exploring the purpose of life, and my life in particular. Initially, it was a desperate search to find meaning for myself. Until recently, I had no dreams, no opinions, no passion for anything – I was a shell around a dark void. Clueless about who I was, I hid behind my titles of wife, mother and Communications Officer. 'I am what I do' was my only means of defining myself. I just pretended to be real. Because I had no dreams of my own, I poured all my energy into the dreams of others.
"In my early 40s, just through a divorce, in a difficult new relationship and with an unexpected baby, I found myself in crisis. Pain and divine grace led me to a great therapist who helped me begin to get in touch with my own needs. It hasn't been easy, searching that black void inside with my tiny flashlight for clues about who I am. But the rewards! I'm not pretending to be real any longer – I'm there!
"My explorations have turned up some real surprises. For example, I'm learning there's a heavy downside to doing my duty if my heart's not in it. I'm learning that my body, not my mind, makes the wisest decisions regarding my welfare, and that it will tell me how to choose if I will just listen. I'm learning that the best way to be a good mother is to pay attention to my own needs.
"In 1998, with two other women, I launched the 'word of heart' newsletter which provided a forum for individuals to share their stories. This convinced me that there's power and value in sharing our experiences with each other. That year, I also discovered the DELFIN Knowledge System, which has given me powerful tools that are transforming my life. Through DELFIN, I met John, who has become not only my business partner but my life partner as well.
"Together, John and I are passionately furthering our own growth, and exploring ways to share what we are learning with others so we can all become the very best we can be. And perhaps, if you see me, just an ordinary person, mustering the courage to speak my voice, it'll inspire you to do the same. And if this happens, my dreams will be fulfilled!"
Click here to email Patrice.