Personal Development Home <-- Spiritual Development <-- Meditation Methods
Learn how meditation methods offer different benefits.
Take our basic or advanced 'Learn how to meditate' program to explore, step by step, progressive meditation methods and techniques that support relaxation, healing and growth
"Seek not outside yourself, heaven is within."
-- Mary Lou Cook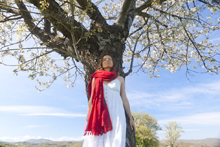 Welcome to Higher Awareness. We're John and Patrice Robson and we invite you to learn the fundamentals of basic and advanced meditation through two series of weekly online emails, of 3 months each:
1. Learn basic ways to meditate: The Foundation
2. Learn advanced ways to meditate: Paths to Illumination
Get the most from your meditation practice
Many people meditate, but very few realize the immense benefits possible from this practice. Why? They haven't been shown how to meditate most effectively.
The techniques we offer are not based on any particular religion or culture. In a progressive and comprehensive approach, we will guide you through the essential steps to:
Calm and develop your mind.
Progressively expand your consciousness.
Attain insights and inner peace.
Experience relaxation, reflection, visualization, imagination, concentration and contemplation.
Together, these two programs offer a solid foundation for a life-long exploration of expanded realms of consciousness.
Learn basic ways to meditate: The Foundation
Give yourself a gift - of clarity, peace and well being. In this 3-month weekly email program, you will progressively learn to use meditation to relax, focus, heal and find balance.
The Foundation meditation training program will help you:
De-stress quickly and easily.
Experience more control, order, release and energy.
Calm and focus your mind and attain clarity.
Defuse negativity, aggression and turbulent emotions.
Open to peace of mind, balance and harmony.
Begin to heal wounded parts of you.
Explore proven approaches to basic meditation methods. Sign up for this program today and start experiencing more ease and mental clarity in your life. You are never left alone as we answer all emails to support your journey.
Learn advanced ways to meditate: Paths to Illumination
If you already have a solid meditation practice, 'Paths to Illumination' offers meditation methods to expand your spiritual awareness. Learn to hold your mind steady in the light of the divine.
In this second 3-month weekly email program, we will introduce you to the steps to experience integration of self, soul and Spirit:
Go beyond thinking and connect with Spirit.
Awaken the inner voice.
Connect with the pure awareness of your deep inner nature.
Experience creative meditation, stimulated imagination, insightful contemplation and enlightened illumination.
Open yourself to new dimensions of your being with this 6 month program. Explore your deeper consciousness through exercises for relaxation, visualization, imagination, concentration, reflection and
contemplation.
"Every man must take time daily for quiet and meditation.
In daily meditation lies the secret of power.
No one can grow in either spiritual knowledge or power without it."
-- H. Emilie Cady

My meditation exercises have improved. I am more aware of relaxing my body and now I can focus on relaxing my emotions and thoughts. I have experienced a more relaxed and peaceful attitude because of meditation. I am so much less prone to being reactive. Meditation provides me with so much positive energy that sustains me all throughout the day despite a very hectic schedule. It is coming home and connecting to the Divine.
~ JT ~
Receive these two 'Learn How to Meditate' email series
and so much more ... as a member of Higher Awareness
Explore this full spectrum of self-development programs that includes...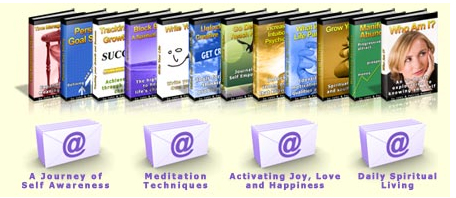 12 workbooks - Know Yourself, Time Management, Goal Setting, Tracking Goals, Self-Healing, Write Your Life Story, Journal Writing, Creativity, Intuition Development, Grow Yourself, Life Purpose and Manifesting Abundance.

16 Email Programs - on Awareness, 7 Smart Questions Series, Meditation, 16 Joy Activators, Developing Consciousness, Spiritual Awareness and Relationships.

250 valuable personal development resources - 100 Intuitive Answer Lists, 18 one page, one hour worksheets, 50 journaling tools and more.
Put Your Life Mission on the FAST TRACK to Lasting Change
You have Nothing to Lose...and a Lifetime of Happiness to GAIN
For only $19 per month... ( $.62 cents/day)


For a one-time payment of $149, you receive a 1 year membership (Winter 2015 Special - 15 months for the price of 12 till Mar. 31) - your investment is just $.33 cents/day.)

NO RISK, Cancel anytime, No Questions Asked. Keep everything you already have... and if you're not satisfied get a full refund...GUARANTEED.

And our truly special offering...
With the one year (with 3 bonus months till Mar. 31, 2015) ($149) membership, you also have access to one-on-one email coaching with me, John Robson. So when you really get stuck, you have an experienced personal development trainer and certified spiritual life coach to support you. I'm here to help you move through your life's deepest challenges and lead the life you were meant to lead. Instantly access your own online personal growth library.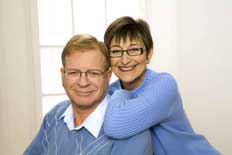 Best wishes on your life journey,




Higher Awareness Inc.

P.S. Just think ... two months from now you may still be wondering who the real you is, or when will I find genuine happiness, confidence, respect. Or...you can be on your way to the life you most desire, feeling inner peace, joy, and revealing that secret vibrant self that you now have the courage to unleash. You decide. You have nothing to lose, because a 100% MONEY BACK GUARANTEE protects you. Click HERE to get started Today.
Our Company
Our Community

Copyright © 1999 - 2015
Higher Awareness, Inc.
#108, 11007 Jasper Ave. Edmonton, AB. Canada T5K 0K6
Phone: 1-780-462-2167 or toll free in N.A. 1-844-828-0740 Mountain (GMT-7)
Email: John Robson