"If we are ever to enjoy life, now is the time – not tomorrow, nor next year, nor in some future life after we have died. The best preparation for a better life next year is a full, complete, harmonious, joyous life this year. Our beliefs in a rich future life are of little importance unless we coin them into a rich present life. Today should always be our most wonderful day." — Thomas Dreier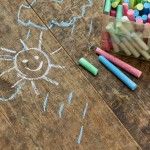 "Play is the only way the highest intelligence of humankind can unfold." — Joseph Chilton Pearce
Doesn't this give you full justification for spending time doing something you love? We hope we are inspiring you to give time each day to the activities that nourish your heart and soul. This is the time of your life. Who says we can't enjoy it?
"We don't stop playing because we grow old; we grow old because we stop playing." — George Bernard Shaw
"Don't view the moment as an obstacle to surmount, but as a gift to stop and enjoy. Each moment is a special gift waiting to be unwrapped." — Drew Leder
Imagine – free, quality time in a balanced, orderly and peaceful week. Our time management skills workbook and worksheets can get you there.