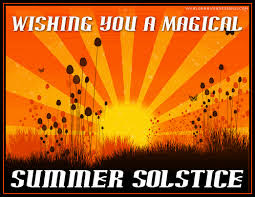 "The summer solstice is a time for strength and vitality, for action and movement." — Carole Carlton
'Solstice' means 'the sun stands still.' In the northern hemisphere we are approaching the summer solstice – the longest day of the year. The north pole basks in its 24 hours of sunshine. To our readers in the southern hemisphere, who are now wrapped in the darkness of the winter solstice, please forgive the northern focus. Information on cycles applies equally to us all, just at different times.
The equinoxes and solstices bring in the 4 seasons. These key times connect us with the strong natural cycles of the earth moving around the sun. 3 months ago we celebrated the spring equinox as it ushers in a time of awakening and recommitting to life as spring brings in energy and warmth. It is a celebration of being resurrected from the dead of winter and born again.
Summer blesses us with light, expansion, fulfillment, holidays, growth and creativity. To honour summer's approach, you might greet the early morning with yoga sun salutations and celebrate the bright evenings by dancing around a bonfire.
In numerology, the calendar year moves through 9 cycles. We are in the 5th cycle that corresponds to a similar energy of freedom, adventure, flexibility and travel. You may experience this energy as a restless explorer, a committed inventor or an intuitive investigator. If the summer energy is not fully integrated or understood, you may be scattered, moody, impulsive, skeptical, addicted, eccentric or caught in extremes.
From a higher perspective, this is the re-birth energy expressed through life-altering energies of transformation, liberation, new levels of consciousness and freedom. It is a time to identify with your highest nature. A time for regeneration and adaptability. To let go of stuck attitudes and seek inner and outer freedom. To open the heart, be spontaneous and creative, and live as a free spirit in action.
Take full advantage of the energies of the season by allowing time for stillness, solitude, reflection, appreciation, and – most of all – fun.
Below are some questions to support you in benefiting most from this season:
Where are you restless or sensing new opportunities?
How can you experience more freedom and adventure?
How can you make time for a break or travel or celebration – to experience space and to refocus?
In what ways can you do different things and do things differently?
How might you live life more soulfully?
What top qualities do you wish to experience and how can you bring them forward?
Enjoy this festive summer season!

"Deep summer is when laziness finds respectability." — Sam Keen

"The things we did last summer, I'll remember all winter long." — Sammy Cahn