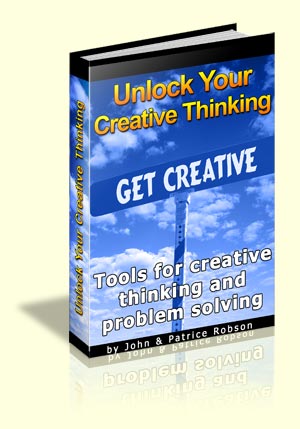 Creative Thinking
- Exercises and Processes!
Discover the tools and processes to creative thinking and problem solving with exercises in our Creative Thinking workbook and 30 days of email support
"Creativity is inventing, experimenting, growing, taking risks, breaking rules, making mistakes, and having fun."
- Mary Lou Cook
Unlock your
creative thinking!
Creative thinking is not a gift you have to be born with. Most creative people learn how to be creative. They initially do it logically. They look at one perspective and think of another. They appreciate metaphors. They make cross-connections easily. They trigger their thinking one way and then apply it to the problem at hand. Our exercises and processes will help you do that
For example, creativity comes with:
seeing things differently,
seeing different things,
generating multiple options,
breaking the rules,
thinking and linking,
a high level of awareness,
knowing how you think,
playing 'what ifs,' and
trying something on for size.
Enhancing your creative thinking is a big step towards becoming more aware of how your mind works. Your mind is very powerful. And you can be its master.
Our creative thinking exercises and processes will help you test your creativity, understand it and expand it. Also receive access to 17 other programs and hundreds of resources for only $19 per month.

We all have the right answers inside of us.
The key is to know how to draw them out. With creative thinking exercises, you will be able to:
Generate more ideas and solutions.
Make decisions and solve problems more easily.
Brainstorm and be your own think tank.
Experience more laughter and fun as you develop courage, trust and faith.
With our Creative Thinking Exercises Workbook, just one of our short exercises can triple your creativity. And as you develop self trust and awareness, you will build the confidence to generate many innovative ideas and solutions.
When you order the Creative Thinking Exercises workbook, you will also receive 30 days of support emails. With these extra tips and inspiration, you will get both the information and practice to cultivate understanding, discipline, new ideas, and quality results.
PLUS receive these and many more Intuitive Resource Lists with 100 items each:
A to Z Creativity Exciters - Have more options in life.
Developing Your Mind - Identify your best ways to grow. be creative and develop your mind.
Ways of Thinking - Identify your styles of thinking.
Ways to be different - 100 ways to do things differently and do different things.
Become an expert at connective thinking. Experience more creative problem solving or your money back! Have more options in your life.
Full satisfaction guaranteed or your money back.
"Embrace fully your capacity to create, to think in unlimited ways, and to pursue everything that you have been wanting. ...This can be the most joyous, prosperous, and creative time of your life." -- Sanaya Roman and Duane Packer
"Just as our eyes need light in order to see, our minds need ideas in order to conceive." -- Napoleon Hill