Personal Development Home <-- Development Resources and Tips <-- Self Development Articles
Personal Growth Articles that can Change Your Life!
Open to new possibilities with these practical and transformative articles!
Watch for regular additions to this list. As a Higher Awareness member you get access this complete list of Personal Growth Articles, PLUS hundreds of other Personal Growth Resources.
Definition of Consciousness - What is consciousness? And why does it matter?
Change Your Life with the Cosmic 2x3 - Don't wait for the cosmic 2x4 to whack you into awareness. Wake yourself up gently with the Cosmic 2x3!
The Consciousness 2 Step Dance of Life - A simple look at how we experience and manifest consciousness.
Traveling the Circle of Life in Three Phases - Understanding the bigger picture of life helps bring meaning to our challenges
A simple model of how we experience and create life. - We participate in life in 2 basic ways - experiencing life through awareness and engaging and manifesting life.
Making Guilt Work for Me - How I learned from guilt
The Circle of Life Covers Two Paths - Have you reached the Magic Point on the circle of life?
Challenged by your relationships? Good!- See how your soul is the underlying guide to all relationships.
Experiencing challenges? - Learn why you're attracting them!
Purpose In Life: - Grounding the Fantasy
Choice - Choose what you want in life! - How to choosing differently.
What's the big picture for your life? - Challenges make more sense from bigger perspectives.
How Are You Sabotaging Yourself? - How do you undermine your integrity and commitments?
The Void: Where The Change Process Stops Us - Mind fog is part of the growth.
Turn Problems into Power and Potential! - Stuff comes up for a reason.
Are You Conscious or Unconscious? - Learn how to Stop and Pay Attention.
Why do Questions Work? - Prove it to yourself with this short exercise.
Journaling for Self Discovery - Unleash the power of your heart and mind.
Why Journaling Works - Understand how your mind works
Setting Up A Journal - Find the ways that work best for you.
A Journaling Process - A simple 4 step process give you better results.
At NO RISK this full spectrum self-development membership program includes...
A Total of 12 workbooks - Learn at home and at your own pace.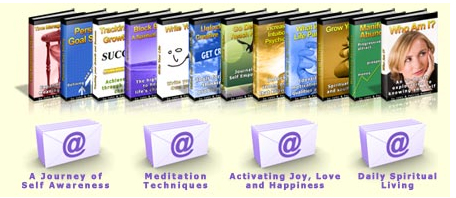 Know Yourself - discover the Authentic YOU
Time Management - make the most of your life
Goal Setting - achieve your highest potential
Tracking Goals - be inspired by each success
Self-Healing - build lasting self-esteem
Write Your Life Story - master 10 easy self-understanding tools
Journaling - connect with your deepest self, enhance awareness
Creativity - maximize your imagination and attract what you desire
Intuition - trust and unleash your own inner wisdom
Grow Yourself - enjoy the moment while you create your future
Life Purpose - live your legacy
Manifesting Abundance - break free of your financial prison
16 Email Programs - all custom fitted to support the uniqueness of each program and keep you inspired and on course.
251 valuable personal development resources
100 Intuitive Answer Lists - you'll trigger new thoughts and big ideas
18 one page, one hour worksheets - your life skills sharpen
50 journaling tools - form a relationship with your mind, be at peace
46 themes of quotes - Be inspired, become the unstoppable YOU
37 smart questions sets - your self-trust grows and perspectives expand
Put Your Life Mission on the FAST TRACK to Lasting Change
You have Nothing to Lose...and a Lifetime of Happiness to GAIN
For only $19 per month... ( $.62 cents/day - less than half a cup of bad coffee.)

At no risk - Access the "Know and Heal Yourself" programs and peruse the entire site. If you decide HigherAwareness is not for you, cancel within 30 days and we refund your $19.


For a one-time payment of $149, you receive a 1 year membership (your investment is just $.41 cents/day.)

For a one-time payment of $269, you receive a LIFETIME membership

NO RISK, Cancel anytime, No Questions Asked, Keep everything you already have... and if you're not satisfied get a full refund...GUARANTEED...for LIFE.

"Enrolling as a lifetime member of Higher Awareness was the best investment I have ever made in my life. I love that I can do your programs at my own pace. They are so very easily accessible at any given moment. I have gained so much personal growth and deep spirituality. I'm experiencing so much more meaning and purpose in my life. And finally I now enjoy a much greater degree of peace, love, and abundance than ever before. IT IS SO LIBERATING! Thank you for the great service you are providing!"
~ Josephine Torrijos ~
And our truly special offering...
With the one year ($149) and life ($269) memberships, you also have access to one-on-one email coaching with me, John Robson. So when you really get stuck, you have an experienced personal development trainer and certified spiritual life coach to support you. I'm here to help you move through your life's deepest challenges?
No risk - we offer a 100% money-back guarantee. You can cancel your membership at any time.
Instantly access your own 'know and heal yourself' workbooks and online personal growth library. Allow us to guide you to greater awareness and live life to its fullest potential.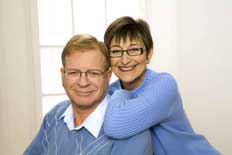 Best wishes on your life journey,



John and Patrice Robson
Higher Awareness Inc.

P.S. Listen ... two months from now you may still be wondering who the real you is, or when will I find genuine happiness, confidence, respect. Or...you can be on your way to the life you most desire, feeling inner peace, joy, and revealing that secret vibrant self that you now have the courage to unleash. You decide. You have nothing to lose, because a 100% MONEY BACK GUARANTEE protects you. Click HERE to get started Now.