"Man's mind, once stretched by a new idea, never regains its original dimensions." – Oliver Wendell Holmes, Jr.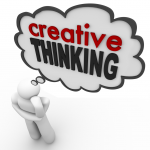 Increase the size of your playing field. As you create ideas, think real big. As you do, you draw from a greater source of experiences and thoughts. Project 3 years into the future. See it as international. See it worth millions. If resources and money and time were unlimited, what new ideas would you think of? All we are doing is creating seeds that relate more directly with the situation or question at hand.
Play with a future perfect statement, which idealizes everything. I can offer anything, anywhere, anytime, immediately, with big benefits, at zero cost to me, for a high profit, now.
Streeeeeeeeeeetch your thinking. You are the only one setting your limits.
Create more mind development, options and fun in your life. Creative thinking exercises and our creativity workbook have many techniques and exercises to improve creative imagination.