– MAINTAINING BALANCE series –
QUESTION YOUR LIFE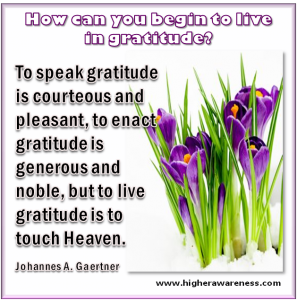 COACH'S TIP
Gratitude is an expression of love, which is the foundation of the universe and the essence of life. If we live gratitude, we appreciate the qualities of every moment. We break down the barriers of separation to experience the truth of unity. There can be no higher experience for a human soul.
INSPIRATION
"Thankfulness sets in motion a chain reaction that transforms all around us – including ourselves.  For no one ever misunderstands the melody of a grateful heart. It's message is universal; its lyrics transcend all earthly barriers; its music touches the heavens." — Author Unknown
To understand why Smart Questions are so powerful, see how they can be your best friend and why they draw out Your Inner Wisdom, read the article Why Do Questions Work .
No matter where you are in your life, you have your own answers and we have the right questions to draw out your inner wisdom. Are you ready to confidently move forward and achieve what's most important to you? Visit Smart Question Coaching and explore how to fully trust your inner guidance and wisdom.
Meet you in Higher Awareness!