– MAINTAINING BALANCE series –
QUESTION YOUR LIFE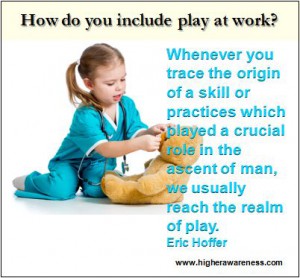 COACH'S TIP
We are most creative when we are relaxed and at play.
Playfulness helps us open intuitive channels for new ideas.
It also helps us with out-of-the-box thinking. Finding ways to bring fun and play into your work could pay huge dividends in resourcefulness and productivity.
INSPIRATION
"Play has been man's most useful preoccupation." — Frank Caplan
To understand why Smart Questions are so powerful, see how they can be your best friend and why they draw out Your Inner Wisdom, read the article Why Do Questions Work .
No matter where you are in your life, you have your own answers and we have the right questions to draw out your inner wisdom. Are you ready to confidently move forward and achieve what's most important to you? Visit Smart Question Coaching and explore how to fully trust your inner guidance and wisdom.
Meet you in Higher Awareness!