– MAINTAINING BALANCE series –
QUESTION YOUR LIFE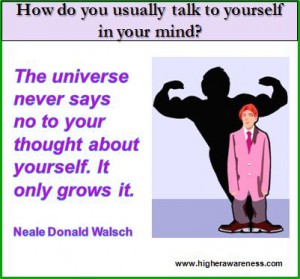 COACH'S TIP
Our thoughts create our reality. How do you typically think about yourself? Do you berate yourself for being stupid, sloppy, forgetful or insensitive? Or do you watch yourself with interest, respect and compassion? Stay alert to your self-talk and let go of judgments that don't serve you.
INSPIRATION
"Self-acceptance is my refusal to be in an adversarial relationship to myself." — Nathaniel Branden
To understand why Smart Questions are so powerful, see how they can be your best friend and why they draw out Your Inner Wisdom, read the article Why Do Questions Work .
No matter where you are in your life, you have your own answers and we have the right questions to draw out your inner wisdom. Are you ready to confidently move forward and achieve what's most important to you? Visit Smart Question Coaching and explore how to fully trust your inner guidance and wisdom.
Meet you in Higher Awareness!