– MAINTAINING BALANCE series –
QUESTION YOUR LIFE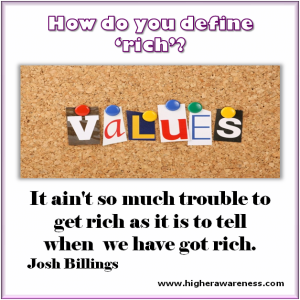 COACH'S TIP
What represents riches in your life? A large annual income? A beautiful home? Health? Happiness? Service? There are no right and wrong answers here. Don't judge yourself. Just be aware of your beliefs. Are your beliefs changing as you ponder the nature of wealth?
INSPIRATION
"To live content with small means; to seek elegance rather than luxury, and refinement rather than fashion; to be worthy, not respectable, and wealthy, not rich; to study hard, think quietly, talk gently, act frankly; to listen to stars and birds, to babes and sages, with open heart; to bear all cheerfully, do all bravely, await occasions, hurry never. In a word, to let the spiritual, unbidden and unconscious, grow up through the common. This is to be my symphony." — William Henry Channing
To understand why Smart Questions are so powerful, see how they can be your best friend and why they draw out Your Inner Wisdom, read the article Why Do Questions Work .
No matter where you are in your life, you have your own answers and we have the right questions to draw out your inner wisdom. Are you ready to confidently move forward and achieve what's most important to you? Visit Smart Question Coaching and explore how to fully trust your inner guidance and wisdom.
Meet you in Higher Awareness!