Consciousness SHIFTERS - COFFEE Questions
Enjoy inspirational, transformative, and playful emails
that gently raise your level of consciousness.
A little shift in consciousness can change many areas of your life.
COFFEE Questions:
Your 5 to 10 minute "Get Perspective" Mini Retreats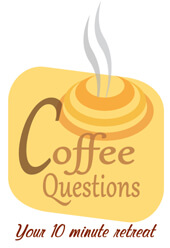 Take just 5 to 10 minutes with a beverage of your choice in a quiet uninterrupted space and complete our top 9 questions so you get perspective, clarity, direction, and your next steps in life from 6 perspectives. See it as your 10 minute retreat. It may be your most empowering, insightful, peaceful 10 minutes of the day, week and month. YOU will receive a series of 4 emails covering:
Daily COFFEE Questions - Awaken your senses and shift perspective. Put your day under a microscope to focus on your priorities, productivity and completions. Empower your mind to be more aware and make conscious decisions.
Weekly COFFEE Questions - Thought-provoking and insightful questions to help you regroup in a natural personal cycle. Explore efficiency, vulnerability, creativity, relationships and goal tracking.


Monthly COFFEE Questions - Put on your binoculars to see the bigger picture of healing, balance, learning, direction and aspirations.
The following COFFEE questions with a reminder service are only available to members.
Quarterly COFFEE Questions - Pull out your telescope. Big questions on a bigger time frame to help you draw answers to life's most important questions. Look afar at your life lesson, life purpose, dreams, holidays, meaning and service.
Yearly COFFEE Questions - Celebrate life. Take your well-deserved time to do a major life review and planning session. Have your own quality DIY retreat and celebration.
NOW COFFEE Questions - Stuck? Feeling down? Scattered? These questions help you with clarity, recommitting and re-energizing.
Sign up below for 3 COFFEE Questions sets over 1 week; With each you get access to 9 Best Questions with FREE Worksheets and Motivation Tools to get control and make the most of your day, week and month AND through your life journey.
To boost your success to a life-changing TREAT, you will also GET our Popular Inner Journey Messages with reminders to use the right questions at the right time.
| | |
| --- | --- |
| | Sign up for your insightful COFFEE questions below: |
"You know what's just as powerful as a good cup of coffee in the morning?
Starting your day with some good loving thoughts.
It can change how your whole day unfolds." - Karen Salmansohn