Smart Question Coaching
Developing the Mind #9 of 60
**************************************************
STOP & THINK!
Draw Out YOUR Inner Wisdom
**************************************************
"Don't worry about people stealing your ideas. If your ideas are any good, you'll have to ram them down people's throats." -- Howard Aiken
*** QUESTION YOUR LIFE ***
Where do you need to do some 'out of the box' thinking?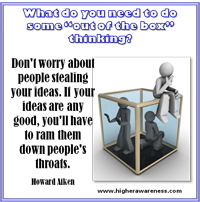 *** COACH'S TIP ***
We are creatures of habit, of patterns. While initially the habits may have served us, they may now be limiting our ability to experience more of life. What aspect of your life has become routine? How might you bring new life to it? Do some outrageous dreaming!
The purpose of these emails and questions is to develop your mind. To make it more creative, expansive, universal, impersonal, conceptual, intelligent, reflective and wholisitc.
*** INSPIRATION ***
"The most important thing in science is not so much to obtain new facts as to discover new ways of thinking about them." -- Sir William Bragg
This is one sample of 60 Daily Smart Questions to "Developing the Mind". For more samples, see Mind Questions to Ask Yourself. You can also choose from 6 other themes of High Level Smart Questions and Tips.
Our Company
Our Community

Copyright © 1999 - 2019
Higher Awareness, Inc.
#108, 11007 Jasper Ave. Edmonton, AB. Canada T5K 0K6
Phone: 1-780-462-2167 or toll free in N.A. 1-844-828-0740 Mountain (GMT-7)
Email: John Robson