Smart Question Coaching
Developing the Mind #19 of 60
**************************************************
STOP & THINK!
Draw Out YOUR Inner Wisdom
**************************************************
"Trust your hunches. They're usually based on facts filed away just below the conscious level." -- Dr. Joyce Brothers
*** QUESTION YOUR LIFE ***
What early warning signals are you presently ignoring?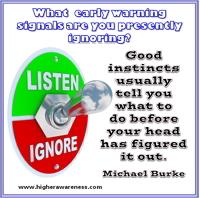 *** COACH'S TIP ***
Messages are available to us from everywhere at all times.
We need only stop and be aware of them.
Listen often for inner guidance.
We all have guides and a soul looking out for our best interest.

What is on your conscience lately?
Where are you vulnerable?
Where are little challenges arising, that could become large ones?
*** INSPIRATION ***
"Good instincts usually tell you what to do before your head has figured it out." -- Michael Burke
This is one sample of 60 Daily Smart Questions to "Developing the Mind". For more samples, see Mind Questions to Ask Yourself. You can also choose from 6 other themes of High Level Smart Questions and Tips.