Smart Question Coaching
Maintaining Balance #44 of 60
**************************************************
STOP & THINK!
Draw Out YOUR Inner Wisdom
**************************************************
"Perhaps there is only one cardinal sin: impatience. Because of impatience we were driven out of Paradise, because of impatience we cannot return." -- W. H. Auden
*** QUESTION YOUR LIFE ***
Where do you need to be more patient with yourself?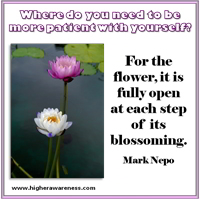 *** COACH'S TIP ***
"It helps to see ourselves as flowers. If a flower were to push itself open, which it can't, it would tear. Yet we humans can and often do push ourselves. Often we tear in places no one can see. When we push ourselves to unfold faster or more deeply than is natural, we thwart ourselves. For nature takes time, and most of our problems stem from impatience." -- Mark Nepo
*** INSPIRATION ***
"For the flower, it is fully open at each step of its blossoming." -- Mark Nepo
This is one sample of 60 Daily Smart Questions to "Maintaining Balance". For more samples, see Balance Questions to Ask Yourself. You can also choose from 6 other themes of High Level Smart Questions and Tips.