Smart Question Coaching
Manifesting Abundance #21 of 60
**************************************************
STOP & THINK!
Draw Out YOUR Inner Wisdom
**************************************************
"I know that no one can really stop me but myself and that really no one can help me but myself." -- Peter Nivio Zarlenga
*** QUESTION YOUR LIFE ***
Where do you need to take greater financial responsibilty?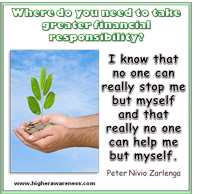 *** COACH'S TIP ***
YOU are responsible for earning a sufficient livelihood and for managing the money in your life. No one can do this for you. Do you need to learn new skills or apply what you already know?
*** INSPIRATION ***
"Complaining is a big clue that you are not taking responsibility for your life. Complaining will not change things in your life; only action will. See yourself as a meaningful person who has much to give to this world instead of a whining child complaining that the world is not giving you enough." -- Susan Jeffers
This is one sample of 60 Daily Smart Questions to "Manifesting Abundance". For more samples, see Money Questions to Ask Yourself. You can also choose from 6 other themes of High Level Smart Questions and Tips.