Smart Question Coaching
Maintaining Balance #54 of 60
**************************************************
STOP & THINK!
Draw Out YOUR Inner Wisdom
**************************************************
"The best way to escape from a problem is to solve it." -- Alan Saporta
*** QUESTION YOUR LIFE ***
Where do you need to focus on solutions?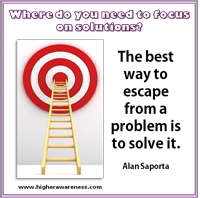 *** COACH'S TIP ***
Are you preoccupied with problems?
Focusing on our problems keeps them in existence, keeps us worrying about them and
keeps us stuck in our emotional reactions.
If you have a problem, the best approach is to clear your mind and then focus on what you want.
Let your mind think more about solutions and opportunities and potential.
Problems trigger us to look for new ways and keep us on our path.
*** INSPIRATION ***
"Focus 90% of your time on solutions and only 10% of your time on problems." -- Anthony J. D'Angelo
This is one sample of 60 Daily Smart Questions to "Maintaining Balance". For more samples, see Balance Questions to Ask Yourself. You can also choose from 6 other themes of High Level Smart Questions and Tips.