Smart Question Coaching
Developing the Mind #27 of 60
**************************************************
STOP & THINK!
Draw Out YOUR Inner Wisdom
**************************************************
"It is too difficult to think nobly when one thinks only of earning a living." -- Jean Jacques Rousseau
*** QUESTION YOUR LIFE ***
How does your work conflict with your value system?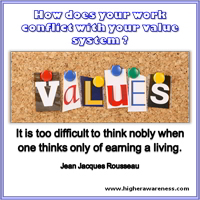 *** COACH'S TIP ***
Our values express who we are at our deepest levels. For integrity in our lives, we need to live our values, at home and at work. Do you see where life conflicts with your values? As our minds develop, we tend to think more with our conceptual, abstract, ideal, universal and impersonal mind.
*** INSPIRATION ***
"A new breed of Americans born out of the social movements of the 60s and grown into a majority in the 70s holds a set of values so markedly different from the traditional outlook that they promise to transform the character of work in America in the 80s." -- Daniel Yankelovitch
This is one sample of 60 Daily Smart Questions to "Developing the Mind". For more samples, see Mind Questions to Ask Yourself. You can also choose from 6 other themes of High Level Smart Questions and Tips.