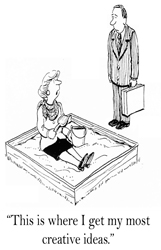 I once took WOW! – a Workshop on Workshops! You would think it would be an excellent workshop as they demonstrated many great techniques and tips – and it was great.
So I though if I was to do a description of a creativity workshop – I should therefore be really creative. So here it goes.
There is one fundamental key to creativity that I used throughout this blog – see if you can figure out what it is.
An ABC Poem — Answers Brainstormed Creatively and Daily, Evolve From Greatness. Humorous Ideas and Jokes Kreate Limitless Mind maps. Negatives, Opposites and Possibilities Quickly Reflect Shades of Truth. Uncover Viewpoints Which eXpand Your Zone.
Alliteration – Find fun, freshness and freedom facilitating the facing of fears and frustrations, finding their future, and feeling the fire and flow of life.
5 Whys – Why would I facilitate a creativity workshop? – to share ideas, to have fun, to help others, to create the best solutions for anyone's problems, to reinvent oneself and others, to create million dollar ideas, to help others succeed, to synergistically co-create superior ideas, to make a difference in everyone's lives and the world.
Criteria for my future perfect workshop – Available to everyone, immediately, anywhere, at anytime, right now, perfectly, with the highest quality, measurable results and the best win/win, think tank techniques that hurt no one, offered with love and with little effort on my part, serving the highest benefit of all concerned with no inventory, no overhead and having lots of fun, calling my own shots with good back-end products, offering a residual income to expand my service to more people more deeply.
Metaphors – a glass of champagne – sparkly, bubbly, fun, relaxing, celebratory, connecting with others, enlightening, cool, refreshing, hic! more fun…
That sounds like a great way to have fun and have a creativity training business.
What do you think the fundamental key is to creativity? I will share it in 3 days or after I get 10 guesses in comments below.
Higher Awareness offers online facilitation workshop design, delivery, marketing and business training and support.
Meet you in Higher Awareness