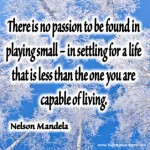 Days following Nelson Mandela's death, we see his story on TV, print media and on the Internet and we are once again reminded of just how influential and inspirational this man was. As a politician and philanthropist, there is no doubt that he has touched so many lives and has inspired a great movement that earned him the respect and freedom that he has always dreamed of for him and his people.
You may have read a lot of inspirational quotes by Nelson Mandela, but we'd like to share his top inspirational quotes about life that may inspire you to be more, do more, and give more, not only for yourself but for the people around you. These life quotes can be used every day to serve as a reminder for us especially when we are on the brink of giving up.
"It always seems impossible until it's done."
"There is no passion to be found playing small – in settling for a life that is less than the one you are capable of living."
"Money won't create success, the freedom to make it will."
"The greatest glory in living lies not in never falling but rising every time we fall."
"It is what we make out of what we have, not what we are given, that separates one person from another."
What is your favorite Nelson Mandela quote? We'd love to hear from you in the comments below.