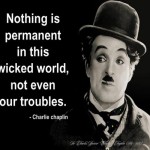 Inspirational messages are nuggets of wisdom that you probably already know, yet someone else was able to phrase it in a way that it encapsulates the essence of what you have actually learned or observed throughout your life. They can be short inspirational messages yet when you hear them at the right time in your life, their impact can be life changing.
Most of the time, we hear these messages from politicians, philanthropists, businessmen or highly influential people. Yet, some of the best and simple inspirational messages I've heard are actually from comedians. The same people who make you tear up from crying usually have very smart and logical things to say about life. Here are some of the best ones I have read so far.
"In order to succeed, your desire for success should be greater than your fear of failure." – Bill Cosby
"I am where I am because I believe in all possibilities." – Whoopi Goldberg
"I'm here today because I refused to be unhappy. I took a chance." – Wanda Sykes
"Life opens up opportunities to you, and you either take them or you stay afraid of taking them." – Jim Carrey
"And if you love only yourself, you will serve only yourself. And you will have only yourself." – Stephen Colbert
"Find out who you are and be that person. That's what your soul was put on this Earth to be. Find that truth, live that truth and everything else will come." – Ellen DeGeneres
Do you want to receive inspirational messages and quotes daily in your email inbox? Then signup on the right below the fish bowl and "Take the Inner Journey".