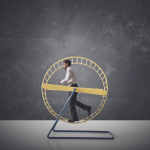 Fed up with riding life's roller coaster or non-stop treadmill? Can't see the forest for the trees? Are you running your life with a clock or with a compass?
There is a way out.
Step back and work ON your life or business instead of immersed IN it.
A wood chopper takes time often to sharpen his axe. Are you taking time to look at the bigger picture? To see if you are on track? To look for early warning signals? To be more effective instead of efficient?
Leave a quick answer -Yes or No. Do you suffer from this problem of busyness?