"Notice what happens when you follow your intuitive feelings. The result is usually increased energy and power, and a sense of things flowing." — Shakti Gawain
We are now leaving this year's 42 day sacred SEVEN energy cycle characterized by reflection, spiritual realization and new levels of understanding. If the 7 energy is not fully integrated or understood, it may unfold as materialism, gluttony, being a workaholic, rigid routines, loneliness and even depression.
The EIGHT Energy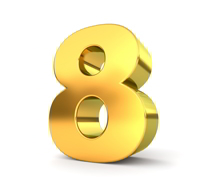 EIGHT is everything in motion with perfect rhythm – the ebb and flow of life. It is the balance of power between the spiritual and form, between the male and the female. Symbols of the EIGHT energy include the hour glass, balance scale, infinity sign, scales of justice and the hero.
The 8 represents the highest feminine number – the divine feminine – and the awakening of higher faculties and intuition. It is characterized by power, magnanimity, manifesting, compassionate leadership, success, action and self-sufficiency.
This is a time for completion and manifesting your goals. It is a time to INTUIT and DO IT. Seasonally in the northern hemisphere, it is autumn in which we harvest results from the year's work.
If the 8 energy is not fully integrated or understood, it may unfold as the negative, violent, possessive, controlling and know-it-all ego.
How do we intentionally shift from the 7 energy of knowing and higher mind to the powerful co-creating energy of the 8? Consider shifting your focus and actions from:
Focused to balanced
Spiritual to practical
Concepts to actions
Letting go to letting in
To consciously work with the 8 energy, answer the questions below:
In what areas of your life do you need the higher understanding of chaos, pain or illusions?
In what areas of life are you too forceful or too inactive?
In what areas of life do you work more with the material instead of the essence?
What in your life is ready to be harvested and appreciated?
In what areas of your life might you assume greater leadership?
How do you see the EIGHT energy influencing your life at this time? We invite you to share or comment on this posting below or on our Higher Awareness Facebook page.
"The greatest thing in the world is to know how to be self-sufficient." – Michel De Montaigne
"We are no longer puppets being manipulated by outside powerful forces; we become the powerful force ourselves." – Leo Buscaglia