TRANSFORMATIONAL TOOLS
to meet all of your needs
on YOUR LIFE JOURNEY.
Build Self-Reliance, Confidence, Intuition, and Peace of Mind!

Download your "KNOWING What Stops You" WORKSHEET!

Personal Development Home <-- Consciousness Shifters <-- Coffee Questions <-- Daily COFFEE Questions
Daily COFFEE Questions Worksheet
9 questions for increased efficiency and focus.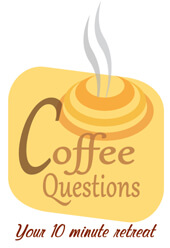 Enjoy a quiet beverage of your choice or even a glass of water for at least 5 to 10 minutes and BREATHE!! Centre yourself. Relax. At least create some type of ritual or trigger so you STOP and relax and go inside and be aware (even multiple times per day.)
Your choice to:
Treat this as a 9 question end of the day and start of the day laser coaching session.
Write short answers. As you do, sense how your answers come to you.
Focus on your feelings, thoughts and intuition.
What do you need to do to stay focused and clear?
Your choice also to:
Download a pdf file for your life planning binder (recommended)
Download a word file docx, and write into a computer file.
Rewrite the following questions into your journal.
"Goals allow you to control the direction of change in your favor." - Brian Tracy
Daily COFFEE Questions
Date
My peak experience today
My biggest challenge today
Decisions to be made.
Problems to solve.
Date
My reflective moments
How I can improve health
Who can I forgive, accept?
Date
My unclear goals/plans
My intuition signals
My critical next step
Focus on bigger perspective questions with our Monthly and Quarterly Questions.
Our Programs
SUMMARY of Features and Benefits AND
Prices reduced as low as $12 per month so we reach more Truth Seekers.
KNOW & Heal Yourself
GROW & Expand Yourself
FLOW & Express Yourself