Monthly COFFEE Questions Worksheet
9 questions on learning, aspirations, finances, clarifying goals and healing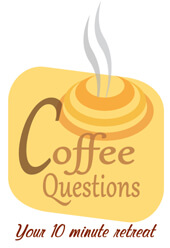 Enjoy an extended quiet time and upsize your coffee or latte to enjoy, for at least 20 minutes as you explore life from a larger perspective. Plan for the next month or 2.
Treat this as a 9 questions 'check up from the neck up' session. Write short answers. When done compare them to last months.
For most of us, life is about unlearning, healing and finding our wholeness and authenticity. We are each our own worst enemy. So spend extra attention on what your healing focus is for the month.
Your choice to:
download a pdf file for your life planning binder (recommended)
download a word file and write into a computer file
get creative and personalize as you rewrite the following questions into your journal.
"Healing is a matter of time, but it is sometimes also a matter of opportunity." -- Hippocrates
Monthly COFFEE Questions
Date
What fears are you
ready to work through?
What must I do to balance my life?
What limited thinking and bad habits need shifting?
Date
What do you want to learn more about?
What ideas, ideals and dreams merit more support?
What higher aspirations are demanding your attention?
Date
What financial areas need more attention?
What is not working in your life now?
What strategic goals need clarification?
See the big picture with big questions on a bigger time frame with our Quarterly Questions.