Weekly COFFEE Questions Worksheet
9 questions to becoming more balanced, creative, empowered and clear.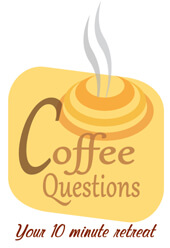 Enjoy a quiet beverage of your choice for at least 10 minutes and fine tune your life direction, goals effectiveness and balance.
Treat this as a 9 question coaching session.
Write short answers and as you do sense how your answers come to you.
Watch your feelings and thoughts.
Write in your calendar the date and time each week when you plan to consistently do your weekly COFFEE Questions.
Watch yourself keep balance and clarity.
Your choice to:
"The effectiveness of work increases according to geometric progression if there are no interruptions." - Andre Maurois
Weekly COFFEE Questions
Date
My peak experience
My biggest challenge
New choices to make
Date
My time wasters.
How I hold back
Where am I vulnerable?
How I will experience more stillness
Date
Areas requiring more
creativity
Relationships needing more development
Goals needing more clarity and commitment
Focus on bigger perspective questions with our Monthly and Quarterly Questions.