Personal Development Home <-- Consciousness Shifters <-- Life Planning Binder
Consciousness Shifters
Life Planning BINDER
How to Create Your Own Life Control Centre and Planning System
Attain more clarity, focus, creativity, connection, meaning, intuition and results.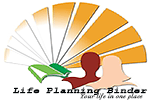 Life Planning BINDER - Serious about your growth? Where do you keep your worksheets, goals, ideal 'Dream Calendar', Life-on-a-Page, daily practices, journals, COFFEE questions/answers, learnings, cheat sheets and lots more. Use our Life Planning Binder to keep track of your daily, weekly and monthly activities.
Now, everything in one, 'GO TO' place. Print your pages, put them in a binder and you can sit anywhere, inside and outside, and work on your evolution and creations. Become a Higher Awareness Member and all links and contents to your Life Planning Binder are active.
Starter Binder Pages and Instructions - Print these core pages, get 5 dividers, put them all in a 3 ring binder, and start recreating your life.
My Personal Dashboard - Daily, get a sense of order, healing, intuition, aspiration and clear direction.
My Ideal Dream Calendar - Idealize your day, week, month adn year - all none pge. So nothing falls through the cracks.
My 3 Step Life Plan - Keep it simple. Internalize your own 3 word big picture plan. Make it memorable, meaningful and magical.
Life Tracking Page - Clarify your starting point today and track you growth, results, and evolution
Happy Dumping Ground - Just Journal Daily - Even if it is one word, a 7 word headline, a paragraph or more. Draw out your inner wisdom.
Pet Peeves "Capture Consciousness CARD" - A quick, easy, real time way to capture what blocks you from truth, authenticity and miracles.
My Power Hour - Start with daily 'Magical Minutes' of your best tools that are so magical, you expand them into your ultimate 'power hour'.
My Goals and Bucket List - What do want to be, do and have? Think BIG as we train you to manifest your goals and dreams.
My TOT, Creed, and Intentions - Call it what you want. It works. Activate your 'Reticulating Activator System'. We will show you why.
COMING SOON
Foundation building - Develop self discipline and healing - First develop your discipline, practices, systems and healing strategies.
Build Character and Awaken Awareness - Next know what you stand for and learn and experience the 9 levels of awareness.
Develop Intuition - How to discern and discriminate higher truths and information from the lower.
Manifesting Influences - Powerful tools to support you in co-creating your ideal life and leading a meaningful, purposeful life of helping others.
Ongoing New Ways for New Times - New ways and forms added as we create new tools.
For ongoing New Ways of Thinking and New Pages for your binder join us at Higher Awareness
"The more prepared you are, the more spontaneous you can be." -- Sue Paulson